Planet Waves Astrology News - Recent Sample Editions 2008
AS I BEGIN your 2008 birthday message, the Sun is exactly conjunct Chiron, at the precise midpoint of your birth sign.
Here is what the chart looks like
. At the moment, I'm playing The Doors first record, simply, "
The Doors
." I've been playing that one a lot lately. Besides grooving to this mind-melding set of compositions and performances, I keep thinking of the impact that this music must have had when it came out -- the energy of it. The world had never heard or felt anything quite like this. It was still 1967, not exactly a quaint time, yet the moment when the psychedelic revolution was just starting to peak. You put that phonograph needle on a record for the first time, and you find out what it means to break on through to the other side.
Read More.
Subscribe to Planet Waves Astrology News

It's True -- Mike Brown Loves Astrologers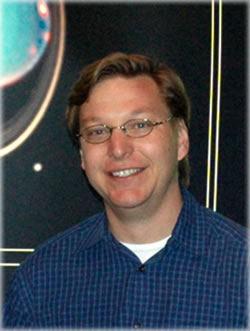 MIKE BROWN is one of the great astronomers of our day. I say this because he and his team have made some of the most significant discoveries in recent astronomical history -- in particular,
Eris
and
Sedna
. Yet what is more, he has a gift for giving planets names that are bold, original and astutely call attention to crucial world issues. Read those links on Eris and Sedna and you'll see what I mean.
His team's 2005 discovery of Eris turned the world of planetary astronomy upside down the next year, when the International Astronomical Union (the IAU, the scientists who officially control names and categories of planets) defined the word "planet" for the first time. This was the meeting in Prague that we made such a fuss about (here is a link to
one article
, and
another
to refresh your memory, and here is the
Wall Street Journal's
...
Read More.
Subscribe to Planet Waves Astrology News

MERCURY is now retrograde in Aquarius. This feels inventive, individualistic, exciting, a bit weird and a bit wired.
For those new to the topic, or those obsessed with it, Mercury retrograde is a planetary ritual that happens three times a year, involving this meaningful little planet coming between the Sun and the Earth. Relative to the Earth, Mercury appears to move backwards for about three weeks. Through careful observation, astrologers have mapped out a few other phases of the experience. For about three weeks ahead of time, you get an echo of the effect. Then the day or two surrounding the station (change of directions) there is often an unusual level of activity, change and shuffle; that is right about now.
Read More.
Subscribe to Planet Waves Astrology News

THIS WEEK, a friend sent me one of those
YouTube videos
about the rise of fascism in America. We've all seen them, right?
The video said that Mexico , the United States and Canada had formed a secret allegiance and were planning to abolish their respective currencies and introduce the amero, akin to the euro. Then, North America would be under one government, Europe would be under one government, an Asian alliance was forming and all of Asia would be under one government, same with Africa, and then all of these would be combined into One World Government, following a plan more than sixty years in the making! (Actually, I think it goes back to around the time of the Old Kingdom of Egypt.)
Read More.
Subscribe to Planet Waves Astrology News