New York, Sept. 27, 2013 | View as Webpage | Customer Service: Chelsea (206) 567-4455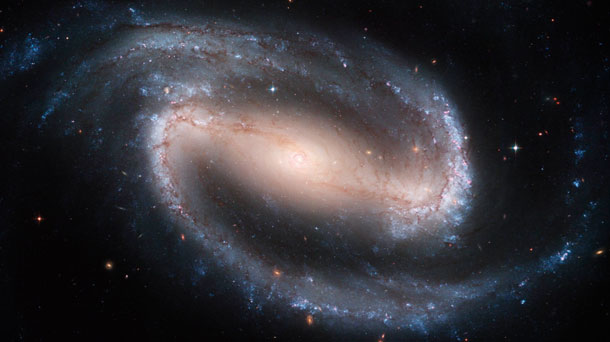 Barred spiral galaxy NGC 1300. Photo by NASA, ESA, Hubble Heritage Team.
Astrological Hurricane Season
Dear Friend and Reader:
It's now hurricane season, a time of year when the conditions are correct for the formation of big, cyclonic storms. Hurricanes get their energy from the ocean's warmth, and as the oceans have increased in temperature, more energy is available. You might describe the positions of the planets this way as well: the hotter they get, the more energy is available here on Earth.
The short version of the story is that the Sun is now moving through the Uranus-Pluto square -- what I call the 2012-era aspect. We are also about to experience two powerful eclipses concurrent with Mercury retrograde in Scorpio. The combined result will be a sustained phase of planetary energy that will make itself known many ways.
In one sense the whole year has led to this moment -- the extended moment of autumn 2013. In reality the setup goes back a lot further; let's see if I can bring you up to date. (If you want further background, search for an article called
The Road to Xibalba
in the Planet Waves archives.)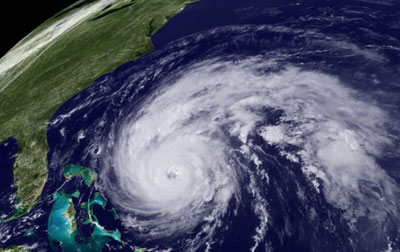 Hurricane Earl, from 2010, was a long-lived and powerful tropical cyclone which became the first major hurricane to threaten New England since Hurricane Bob in 1991. Photo: NOAA.
Around 2008, an aspect pattern started forming, which involved Pluto ingressing Capricorn. If you were following the astrology blogs at the time, it was just about the only topic going. Pluto is a slow-mover (the slowest-moving planet used by most astrologers, who will be catching up to the Kuiper Belt and Eris in their next lifetimes). Slow means influential; slow means that Pluto events last a while. Pluto means that nothing is the same after he's come through town.
Speculation about Pluto in Capricorn goes back many years; it was perceived in advance as one of those really ominous transits, and now we are in the midst of it. Pluto in a sign helps define a whole era of time, concentrating and focusing change in the topic areas associated with the sign in question. Depending on where Pluto is in its orbit, it can take between 12 and 30 years to make it through one sign. It will be in Capricorn until 2023-2024.
The subject area of Capricorn is the structure of society. Corporations, governments, families and traditions all are covered by Capricorn.
Pluto is both creative and destructive. It brings change, and in the path of those changes there can be considerable progress. Yet the door can also open up for some serious negativity. One example was the Saturn-Pluto opposition of 2001-2002. A few astrologers predicted terrorism for this era; none that I am aware of predicted a world war lasting 12 years and counting.
The first year that Pluto touched the foothills of Capricorn, we experienced the financial collapse of 2008. I can still see the smirk on Henry Paulson's face as he announced that the bailouts would begin, trying so hard to suppress his glee. I remember well John McCain suspending his presidential campaign, allegedly to solve the problem with his own bare hands. Financial institutions were collapsing in house-of-cards style, and the money was flowing freely.
Astrologers around the world muttered, "Pluto in Capricorn has begun." (Banking policy spotters around the world muttered, "yep, I told you so." They had.)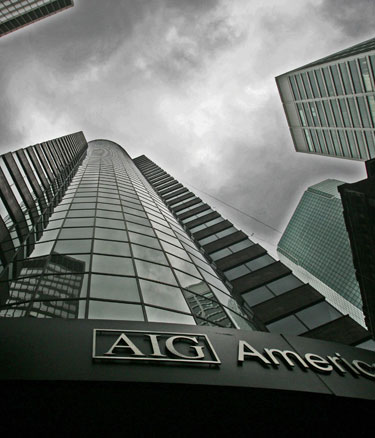 One of the momentous institutional failures at the beginning of Pluto in Capricorn was American International Group, a vast insurance company. Many banks were bailed out; many that you have not heard of went under. Photo by Neil Irwin.
In 2011, another (somewhat quicker) slow-mover -- Uranus -- ingressed Aries. On that very day (March 11, 2011), within hours of the ingress, a tsunami and earthquake took out a chunk of Japan, causing a huge mess at several nuclear power plants, the most famous of which was Fukushima.
Astrologers around the world muttered: "Oh shit. Uranus in Aries. And oh. Uranus square Pluto. Here we go." Those who follow global astrology no doubt noticed the connections of both transits to the Aries Point -- the first degree of Aries, where all things political intersect with all things personal.
Everyone remembers 2011, the year the Uranus-Pluto square really began: the protests that spread through the Middle East and across North Africa; the protests in Wisconsin; and then that autumn, the worldwide Occupy movement began in a private park in New York City. Real people were taking their bodies to the scene of the crime and demanding action.
And you may remember, if you haven't suppressed it, the agony of that first month after the meltdowns in Japan, as the truth slowly came out. People who understand nuclear power know that it's perhaps the most personal-as-political thing there is if, for instance, a little strontium-90 lodges in one's bones.
The Uranus-Pluto square has been working its way across the signs Aries and Capricorn, and will make a total of seven contacts. The next one is on Nov. 1. It is the midpoint of the cycle -- the fourth of seven events. There will be another during the next eclipse season, on April 21, 2014; and then another on Dec. 15, 2014. The last will be on March 16, 2015. Then the energy of the aspect will slowly wane, though it can do so with considerable influence, even for another five years.
Every now and then (quite a bit, lately), other planets get into the aspect pattern, and bring its properties out into the open. For example, Jupiter is now in Cancer, making what's called a T-square with Uranus and Pluto.
Recently Venus and then Mercury passed through Libra, completing a grand cross. Challenging events associated with Mercury's passage through the aspect were the Colorado floods and the mass shooting at the Navy Yard. When that Libra leg of the cross is filled, it can be intense. Part of that is because the grand cross is the most powerful aspect pattern. Adding to the energy is the fact that there's a little-known slow-moving planet, similar to Pluto, already in Libra opposite Uranus and square Pluto -- Typhon, the namesake of typhoons.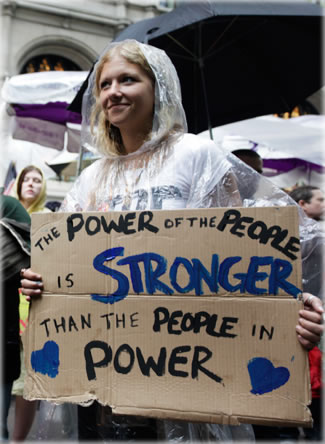 The Occupy Wall St. movement was a herald of the Uranus-Pluto square. Photo by Eric Francis.
The first thing that happens this autumn is that the Sun in Libra passes through the aspect structure. On Oct. 1, the Sun will square Pluto (that is deep, introspective and compelling changes that can take root on the soul level). On Oct. 3 it will make an opposition to Uranus (surprises, shocking developments, revelations, inventions), and over the next few days, a conjunction to Typhon (exact Oct. 6) (perhaps passing through the eye of the storm). On Oct. 12, the Sun will make a square to Jupiter, which tends to magnify things and also provoke decisions.
Even if these aspects were happening inisolation from each other, we would feel them. That they are happening concentrated within a few days means there is likely to be a global effect. You don't need a crystal ball to guess what that effect might be -- some lunatics in Congress are threatening to hold the United States, and by extension the world financial networks, hostage.
Their issue is that they don't want the Affordable Care Act (also called Obamacare, invented by the rightwing Heritage Foundation, enacted by Congress, signed by the president and approved by the Supreme Court) to be any further entrenched. This autumn is the time that the health insurance exchanges open in all 50 states.
If you live in England or Canada or Sweden or someplace civilized like that, this must sound awfully weird -- to threaten to push the country into default, and/or to defund and therefore shut down the government, because a small minority of legislators don't like a law that provides health services for people. I wish I was making this up, then I could edit it and things would be different.
If that happens, we will certainly experience the Uranus-Pluto square full-on, in solar style. Note that the Sun, which is doing all the passing-through, in mundane astrology (the astrology of worldly affairs) represents the head of state. The fact that the head of state is going to have a wild ride for at least the first two weeks of October means that the whole government may be in turmoil.
Speaking of Oct. 1, that's the day that Mercury enters what's sometimes called shadow phase -- the earliest measure of the Mercury retrograde effect beginning. The retrograde itself -- the peak of the event, when Mercury appears to move in reverse longitude through the zodiac -- begins on Oct. 21 and ends Nov. 10. The second shadow phase ends Nov. 27. This is definitely something to plan around. Follow the
Planet Waves blog
and
Planet Waves FM
and your member editions for ongoing details, which will be useful to keep up with.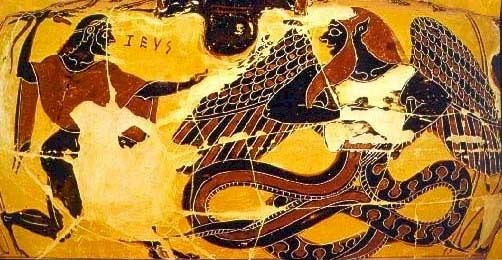 Typhon, the most fearsome monster of Greek mythology, was so terrible that it took Zeus himself to fight him. Now a planet by this name is part of the cardinal grand cross -- Typhon, Jupiter, Uranus, Pluto -- and in a moment, the Sun.
This is actually pretty good timing for most purposes in the Western world, since we leave Mercury retrograde behind around Thanksgiving, and well before the end-of-the-year madness reaches its peak. However, as this happens, Venus is warming up to one of its relatively rare retrogrades (Venus is retrograde least of all the planets). That takes place Dec. 21 through Jan. 31 (not including shadow phases). I will come back to that one next month.
Right in the mix of Mercury retrograde, making things especially interesting, is a pair of eclipses. Both are impressive in their own right. All eclipses come with a sense of acceleration, concentrated experiences and the feeling that fate is in operation. Eclipses are points of no return -- and these two occur in the mix of much other astrology.
As for the eclipses -- the first is the Aries Full Moon, which is a penumbral lunar eclipse. The Moon will pass through the outermost edge of the Earth's shadow on Friday, Oct. 18. One of the most interesting features of the eclipse is that the Moon will be conjunct a major new discovery, Eris (the planet that got Pluto 'demoted').
Then as the Moon is waning, the Sun ingresses Scorpio on Oct. 23. About 10 days later on Nov. 3, we experience the corresponding New Moon event -- a part-annular, part-total eclipse that is one heck of an impressive chart.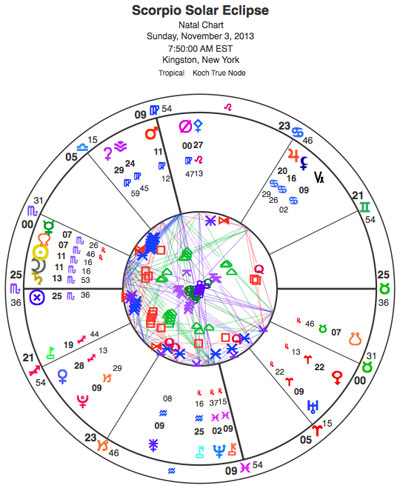 Eclipse of the Sun in Scorpio on Nov. 3 is a combined total and annular eclipse, notably, conjunct Saturn. It also happens during Mercury retrograde in Scorpio. You can see the eclipse group of planets to the left side of the chart. They include Mercury, the North Node, the Sun, the Moon and Saturn. Juno, square the eclipse group, makes more than a cameo (potentially stealing the show), bringing in eternal themes of relationship and social justice.
The eclipse (a conjunction of the Moon and Sun) will be conjunct Mercury, the North Node and Saturn. That's a lot of planets concentrated together, during what's already one of the most profound times of year even when nothing special is going on.
It will be essential, in the midst of all of this, to keep your focus, to maintain emotional grounding, and to stay in balance -- all of which will be easier said than done. When the astrology is acting up, a good astrologer can be helpful. Through this whole season, I plan to be working on my 2014 annual readings for all 12 signs and rising signs.
For the past few weeks I've been studying and casting charts for the next 12 months, and they are pretty special, even by contemporary standards. What's interesting about the autumn of 2013 is that it closely resembles what will be happening all through 2014 -- the peak year of the Uranus-Pluto square.
My annual will be called The Mars Effect. Having read this article, when I say that Mars will be passing through the Jupiter-Uranus-Pluto-Typhon configuration not once but three times, that will be meaningful -- we are about to go on one heck of a ride. We are, as of this moment, embarking on what may be the most profound phase of the extended 2012 era; I would estimate this stretches from October of 2013 through August of 2014.
Confronted with this information, some astrologers will say hold on and some will say let go. I will say: stoke your vision, pay attention and look where you want to be.
Lovingly,

This week's news briefs were written and researched by Amanda Painter, Susan Scheck, Carol van Strum, Anne Craig and your friendly neighborhood news editor, Eric Francis
.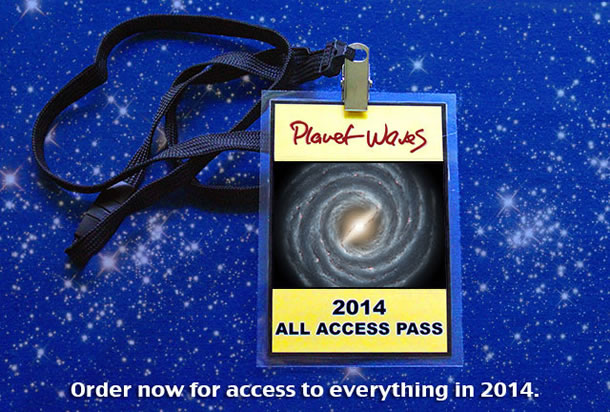 We are happy to offer once again one of our most popular products: the
Planet Waves All-Access Pass for 2014
. The All-Access Pass is for members who want access to everything we offer in a calendar year. In recent years our product line has grown considerably, and the response from our All-Access subscribers has been overwhelmingly positive. You can read about everything that's included with an
All-Access pass here
. For those who can't get enough Planet Waves astrology, it's an unbeatable value. Plus, if you order now, we'll include the rest of the readings that come out in 2013, and you'll save $100.

After the Fake Filibuster, a Game of Chicken
The rightwing fringes of the Republican party have been moaning for the past couple of years that candidates like McCain and Romney, despite unstinting support of big business and blustering on about American exceptionalism, simply weren't conservative enough. The 2012 election cycle brought in a fresh crop of Tea Party-fancying congressional representatives, including the junior senator from Texas, Ted Cruz.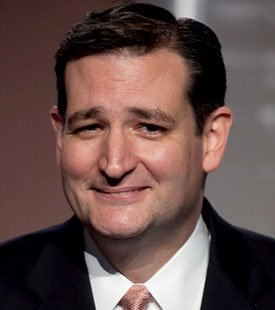 Illustration from the Encyclopedia of Psychiatry under the term "narcissistic personality disorder." Photo by Jonathan Bernstein.
If you recognize his name, that's because he increased his visibility considerably this past week with a "filibuster" on the Senate floor lasting more than 21 hours, claiming that his intention was to bravely fight to defund the Affordable Care Act, known to most as Obamacare.
That was the first step in endlessly awaited health care reform designed to make medical coverage more accessible to more people. It's the one thing that Obama has accomplished, and it seems that no matter how popular it is, Obama's political enemies want to deny him a positive legacy.
As you may know, the federal government runs out of money in mid-October. To stay in business, it must pass what is called a "continuing resolution" (CR, in Beltway-talk), which extends the nonexistent budget. The federal government no longer uses a budget; it sputters along from CR to CR. The next one expires Tuesday, Oct. 1.
Last week the House of Representatives passed a 45-day CR that includes a condition: at the insistence of the Republican majority, funding the government only if the Affordable Care Act is cut off from resources. In other words, the majority of our representatives are willing to shut down the government if Obamacare is not starved of resources. Forget the fact that it's been approved by all three branches of government, including a conservative-leaning Supreme Court.
So the Republicans, who now resemble anarchists, are planning a kind of holdup: they say they won't approve a CR without also killing Obamacare. That in turn could force a government shutdown just as the Sun squares Pluto, setting off the rest of the grand cross -- just as Mercury gets ready to station retrograde.
Friday, the Senate is scheduled to take up the House version of the bill, which will fail in the Democrat-controlled Senate. That means the country will still be without a CR, and the money runs out around Oct. 17. Most people are expecting pressure from the business community, meaning banks and financial markets, not the local tailor shop, to dissuade the Tea Partiers to allow the government to function. But that might not work.
Meanwhile, Republicans -- eager for any influence they might have, and to do anything to make Obama look bad -- have trained their guns on the rapidly approaching debt ceiling deadline. That is the limit on money the government must borrow to pay for things already purchased (wars, etc.).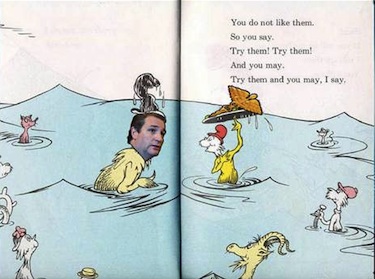 How Ted Cruz missed the irony of his choice of 'fake filibuster' reading material is a mystery: once the narrator actually tries the green meal, he likes it. Image: MSNBC.
That issue must be resolved by Oct. 17, when the debt ceiling must either be raised -- as has been done more than 50 times in recent decades -- or the U.S. government will be in default on its current financial obligations. Republicans are offering to avert this crisis provided that Democrats will agree to (among other things) approving the Keystone XL pipeline and delaying the implementation of Obamacare for a year.
In other words, the Republican position is: do it our way or we blow the place up. Default would have many repercussions, including messing with financial markets, banking, thousands of businesses and hundreds of thousands of employees who depend on federal paychecks; not to mention the millions of people who depend on the government being there.
Will the federal government shut down? At this point, it seems unlikely that Congress will manage to get its collective self together and prevent that eventuality by midnight on Monday. Even if it does shut down, various Obamacare provisions will continue to go into effect. 
One thing we can all count on is a bitter fight on the debt ceiling issue as we approach mid-October.
The glaringly obvious fact that emerges from the Cruz performance is that, rather than a good-faith effort to govern, the end game was all about either one guy getting attention, or one guy taking the fall for what a lot of people want to do but don't want to stand up for. 

Warren Revives Softer Draft Guidance for GMO Labeling
Senator Elizabeth Warren, a staunch consumer-protection advocate, is calling for the Food and Drug Administration to finalize
a 12-year-old draft guidance
in relation to the labeling of foods containing GMOs.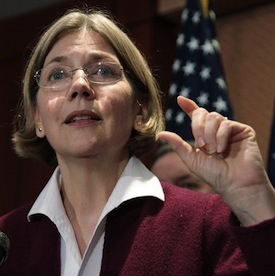 Is a little GMO labeling better than none? Elizabeth Warren seems to think so.
GMO labeling supporters are not entirely pleased with this, since the guidance is voluntary and not as tough as the mandatory national labeling requirements they seek.  
The guidance calls for food manufacturers, should they choose to identify foods as containing GMOs, to use statements that explain how the food was modified through genetic engineering and avoid the phrase "GMO free" for foods that have not been modified.  
"The term 'GMO free' may be misleading for most foods, because most foods do not contain organisms (seeds and foods like yogurt that contain microorganisms are exceptions)," the guidance explains. "It would likely be misleading to suggest that a food that ordinarily would not contain entire 'organisms' is 'organism free.'"  
However, 85% of corn and 93% of soy
grown in the U.S.
in 2013 has been genetically modified. These ingredients are added to many processed foods sold here -- a leading reason for mandatory labeling.  
Cross-contamination -- GMO seeds finding their way into non-GMO corn and soy fields -- is common, and therefore a wild card in any food product containing corn or soy. Mandatory labeling would eliminate at least some of the mystery in what we are eating.  
Update
: The Monsanto Protection Act will not be part of a bill to avoid the government shutdown, due to opposition by Senate Democrats Jeff Merkley (D-Ore.) and Barbara Mikulski (D-MD), chair of the Senate Committee on Appropriations, as well as strong action against it by the public. Mikulski announced Tuesday evening that it will be
stripped from the Senate version
of the bill.

Russia to Prosecute Greenpeace Activists for Piracy
Russia's top investigative agency, the Investigative Committee, said Tuesday it will prosecute Greenpeace activists on piracy charges for
trying to climb onto
an Arctic offshore drilling platform owned by the state-controlled gas company Gazprom. Their ship, the Arctic Sunrise, was seized last week by the Russian Coast Guard in Murmansk, a Russian Arctic port.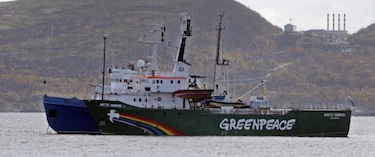 Greenpeace ship 'Arctic Sunrise' is escorted by a Russian coast guard boat, off the Kola peninsula in Russia, on Tuesday, Sept. 24, 2013. Photo: Efrem Lukatsky/AP.
Piracy carries a potential prison sentence of up to 15 years and a fine of 500,000 rubles (about $15,500).
Two activists tried to climb onto the Prirazlomnaya platform last Thursday and others assisted from small inflatable boats. The Greenpeace protest was aimed at calling attention to the environmental risks of drilling for oil in Arctic waters.
Investigative Committee spokesman Vladimir Markin said the activists posed a danger to operations on the oil platform. "Such activities not only infringe on the sovereignty of a state, but might pose a threat to the environmental security of the whole region."
Greenpeace insisted that under international law Russia had no right to board its ship and has no grounds to charge its activists with piracy.
Russian president
Vladimir Putin weighed in
Wednesday at a forum on the Arctic, saying, "It is absolutely evident that they are, of course, not pirates. But formally they were trying to seize this platform ... It is evident that those people violated international law."
A spokesman for the Investigative Committee said the charges might be changed if new evidence emerges.

Hunger Strikes: Pussy Riot, Guantanamo
Nadia Tolokonnikova, one of two incarcerated members of Russian feminist punk group
Pussy Riot
, has
begun a hunger strike
in protest of "slavery-like conditions" in a Mordovian penal colony. She is serving a two-year sentence for protesting Russian president Vladimir Putin with her band, who staged a "punk prayer" inside a Moscow cathedral on February 21, 2012.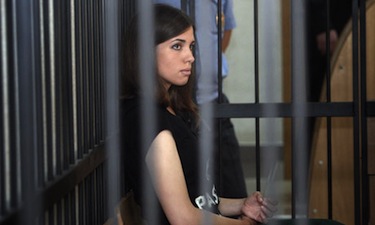 Pussy Riot's Nadezhda Tolokonnikova, prior to being sent to Mordovia's Gulag-like prison colony No 14. Photo: AP
Tolokonnikova wrote an open letter, published in
The Guardian UK
, describing how inmates are in charge of giving others beatings and depriving them of rights, under the approval of prison officials; work sewing shifts as long as 17 hours; and endure inconceivable filth in an atmosphere of antagonism, terror and despair.  
"A threatening, anxious atmosphere pervades the work zone. Eternally sleep-deprived, overwhelmed by the endless race to fulfill inhumanly large quotas, prisoners are always on the verge of breaking down, screaming at each other, fighting over the smallest things. Just recently, a young woman got stabbed in the head with a pair of scissors because she didn't turn in a pair of pants on time," she writes.  
According to her husband, Peter Verzilov, Tolokonnikova has also faced death threats in retaliation for a complaint she sent through her lawyer.  
In May the other jailed member of Pussy Riot, Maria Alyokhina, went on hunger strike for 11 days to protest prison conditions; allegedly many of her demands were met. A Mordovia prison system spokesman has denied Tolokonnikova's allegations.  
Meanwhile in
Guantanamo Bay
, the U.S. military says it will stop reporting the number of prisoners on hunger strike when the official tally of striking prisoners has dropped below 19. The strike against indefinite detention began in February, with 106 out of the 166 prisoners participating at its peak, prompting Pres. Obama to address his failure to close the prison as promised. At this time, 18 prisoners are listed for force-feeding through inhumane nasal tubes.

Ego, Sexual Expectations and Viagra: More is Not Merrier
For centuries, human beings have done foolish things to boost their sex appeal, sex drive and sexual ability -- often carrying (or thinking they must meet) unrealistically high expectations. Once in a while, the pursuit of sexual prowess has tragic consequences, as two men recently demonstrated with their misuse of Viagra. [Read earlier Planet Waves
coverage of Viagra here
.]  
According to
The Daily Mail
, which cites the Columbia Reports website, a 65-year-old Colombian man recently underwent the amputation of his penis after intentionally overdosing on Viagra in an attempt to impress his new girlfriend.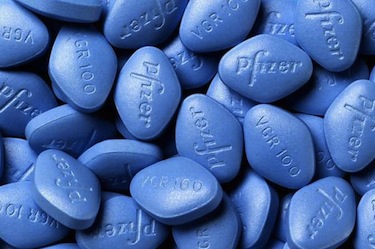 Halloween is coming -- but don't eat a handful of these.
The man, from Gigante, Colombia (no joke), suffered an erection for
several days
before being forced to seek medical help (Viagra's label advises seeking medical help for any erection lasting more than four
hours
). At that point, his penis was showing signs of gangrene; doctors chose to amputate to prevent its spread to other parts of his body.  
He is now recovering physically (no word on his ego). A 25-year-old in Yemen was not so lucky last week.  
The young man sought to impress his new bride by taking
five
Viagra pills at once on his wedding day. Upon his arrival home after the ceremony, he collapsed and died despite doctors' attempts to revive him at a hospital.  
By no means is this the first case of a man suffering heart attack or arrhythmia while using Viagra; the same effect the drug has on the nerve activity of the penis can also increase sympathetic nerve activity, which makes blood vessels constrict. And there are numerous other
potential side effects
.  
That the death occurred in a man so young highlights a disturbing trend: young men taking erectile dysfunction drugs when they are not suffering from ED. In fact, one 2012 study found that young men using
ED drugs 'recreationally'
may actually be more likely to develop the condition, by creating a psychological dependence on them.  
Pfizer, the maker of Viagra, warns quite specifically that combining Viagra with certain other medications, or using it in the presence of certain health conditions, can be dangerous. Pfizer's website and labeling also advise that a man's doctor may prescribe a lower dose if he is over 65.  
But do the warnings need to be stronger? Even if they were, is it enough to sway a man who's so desperate to be 'enough' for a woman in today's world of non-stop sex in the media and Internet porn? People tend to think that 'if a little is good, more must be better' about everything from Tylenol to chocolate cake. Will we ever learn?

We Can Save the USPS -- If We Want To
The Carper-Coburn bill (S. 1486), which threatens the viability of the U.S. Postal Service by ending Saturday delivery and door-to-door delivery, plus laying off more than 100,000 workers over several years, has been the subject of congressional hearings this week. It has also inspired legislation meant to counter the brick-by-brick dismantling of the USPS by reimagining how the struggling organization could recapitalize itself through diversifying its services.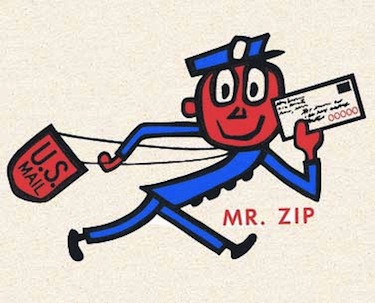 With the sensible Postal Service Modernization Bills, Mr. ZIP could help you with your banking -- and fund infrastructure -- while keeping the USPS viable.
Representative Peter DeFazio (D-Oregon) and Senator Bernie Sanders (I-Vermont) have brought
The Postal Service Modernization Bills
, a pair of companion bills, to their respective wings of Congress.  
"Needs that the post office might diversify into include (1) funding the rebuilding of our crumbling national infrastructure; (2) servicing the massive market of the "unbanked" and "underbanked" who lack access to basic banking services; and (3) providing a safe place to save our money, in the face of Wall Street's new 'bail in' policies for confiscating depositor funds," writes Ellen Brown, president of the Public Banking Institute, in
a Truthout article
.  
"All these needs could be met at a stroke by some simple legislation authorizing the post office to revive the banking services it efficiently performed in the past."  
Bipartisan support for founding a national infrastructure bank (NIB) over the last six years keeps meeting opposition to using tax money for such a thing (while never-ending wars get continual funding). But Frederic V. Rolando, president of the National Association of Letter Carriers, asks:  
"[W]hat if we set up the NIB without using taxpayer funds? What if we allowed Americans to open savings accounts in the nation's post offices and directed those funds into national infrastructure bonds that would earn interest for depositors and fund job-creating projects to replace and modernize our crumbling infrastructure?  
"A post office bank … would not offer commercial loans or mortgages. But it could serve the unbanked and fund infrastructure projects selected by a non-partisan NIB."  
The idea has precedent: currently 1 billion people use the postal sector for savings and deposit accounts worldwide. With about one in four U.S. households counting as "unbanked" or "underbanked," an NIB could serve as a true alternative to such extortionist options as prepaid debit cards, check cashing services and payday loans that keep people locked into poverty.

It's a Dangerous Job but Somebody Has to Do it Well
New York Times
staff photographer Tyler Hicks hadn't planned on working last Saturday morning, Sept. 21. He was picking up some framed wedding photos in a shopping center when the neighboring Westgate Mall in Nairobi, Kenya, exploded into screams and shouts and gunfire.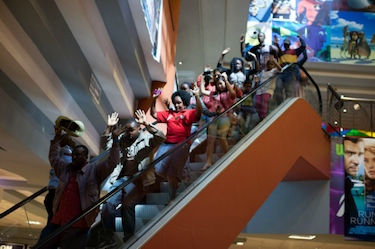 People who had been watching a movie in the Westgate Mall being evacuated. Photo: Tyler Hicks / The New York Times.
You may know his name because he and three colleagues were held captive for six days by pro-Qaddafi fighters during the Libyan revolution. 
Hicks ran toward the scene as everyone else was running away, and entered the mall through a service entrance with Kenyan security forces, photographing chaos with the little camera he had handy until his bride, fellow photojournalist Nichole Sobecki, got there with his Kevlar and pro gear. 
By coincidence, then, the world ended up with 
a view of the attack's early hours
 through the lens of a Pulitzer Prize winner. Long before the nearly five-day siege was over, Somali-based hard-liners Al Shabaab ("the youth" in Arabic) 
claimed credit
. In a message released Wednesday, Al Shabaab blamed Kenya's incursion into Somali and "Western states that supported the Kenyan invasion and are spilling the blood of innocent Muslims in order to pave the way for their mineral companies" for its attack.
The attack was carefully planned -- Al Shabaab apparently rented a storefront within Westgate from which to plan and stage its bloodbath. This 
upended the conventional wisdom
 that AMISOM, made up of several African nations including Kenya and with substantial Western backing, was close to a decisive victory in the bloody Somalian conflict taking place against a backdrop of devastating famine.
Meanwhile, Kenyan military security forces were woefully unprepared for such an event, which is why it took days to bring under control. Counterterrorism planners said that this particular mall was such an obvious target, it was recently used for terrorism response training exercises.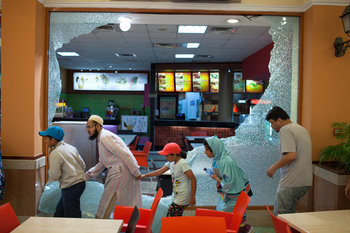 Photo by Tyler Hicks / The New York Times.
Al-Shabaab, which grew from a relatively small offshoot of a formerly governing coalition to claim the al Qaeda brand, is reportedly unpopular within Somalia. The hardline political Islamists have plenty of innocent Muslim blood on their own hands. Reports of the mall attack demonstrate an effort to spin the PR fallout in their favor by checking to see if victims were Muslim before shooting them.  
Kenya has the largest 
Somali refugee
 population in the world. Over half the Kenyan population survives on less than a dollar a day, and youth unemployment is over 75%, creating fertile ground for 
Al-Shabaab recruiters
 who work through Saudi-backed Islamic youth centers and offer $500 a month.
Expatriate Somalis living in the United States reject the idea that Al-Shabaab would have any great success recruiting among American youth, despite reports they've made it all the way to Minneapolis. Still being sorted out are reports that there were several nationalities among the mostly young attackers; Interpol has issued an 
arrest warrant for Samantha Lethwaite
, the widow of a man who was killed participating in a London terror attack several years ago.
As of Thursday, 67 civilians from a dozen different countries and five militants are confirmed dead, including children as young as five; 61 people are still unaccounted for as forensic teams from several nations sift the rubble. Eleven militants are in custody. Also on Thursday, 
fighting ramped up along the Somalian/Kenyan border.

BlackBerry Sells Out, Goes Private, Stays In Business
It's been a rough couple of years for RIM, makers of the iconic BlackBerry. At least it was rough before this week's announcement that the company -- called BlackBerry, after it's smartphone product for the past year or so -- would accept a $4.7 billion buyout. That offer came from Fairfax Financial Holdings, a Canadian consortium headed by Prem Watsa. The $9 a share proposition came Monday afternoon, following an announcement last Friday of layoffs and poor earnings.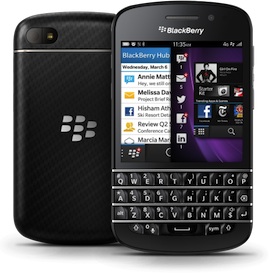 A tool, not a toy -- try selling it to teenagers.
Watsa was a BlackBerry board member until August, when the company announced it was for sale and the "
Canadian Warren Buffett
" stepped aside to avoid conflict of interest. Fairfax already holds about a tenth of BlackBerry stock, and the deal would make the formerly public company private.
Rumors of a buyout
 had been swirling around the company since at least 2011, when RIM stock dropped by 80%. In the past year, government agencies including the Department of Defense, the FBI, and the ICE all announced that they were opening up their portable IT bidding -- formerly an exclusively BlackBerry niche -- to rival companies like Apple and Samsung.
When the Defense Department announcement came last October, BlackBerry's vice president for government solutions 
whistled a happy tune to CNET
, claiming confidence that BlackBerry would continue dominating the business and government sectors. The device that revolutionized the communications world back around the turn of the century still has diehard fans, who gather on a 
dedicated forum
 to talk "Crackberries." Pres. Obama famously carries one. But even Obama for America, his campaign organization, spent a pile of money on Apple devices for its workforce.
Watsa has said that he believes in the BlackBerry and that taking the company private will allow for retrenchment and healing. On the Crackberry board, they're not a happy group. Many claim that when it comes to sheer solid functionality, nothing beats a BlackBerry. But the company that's long marketed its devices as tools, not toys, seems unlikely to survive without some re-visioning going down. Even the Navy wants apps these days.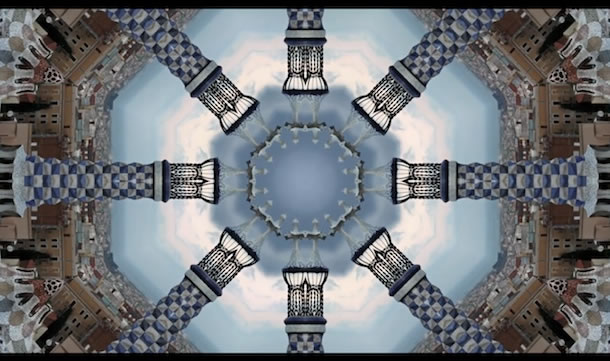 Kaleidolapse moment frozen in time: if you've been to Barcelona, do you recognize that tower?
Turning the World Inside Out: Barcelona Kaleidolapse
A walk around Barcelona would be enough eye candy for most of us, but now there's this:
a Kaleidolapse of the city
, turning church spires, trees, people and streets into a wild moving mandala.
Kaleidolapse is a visual technique that applies a kaleidoscopic effect to different shots taken with time lapse photography. The multiple moving images are symmetrically multiplied, giving them an abstract look.
The technique was developed by MyLapse, a Barcelona-based production company specializing in time-lapse photography. The creative team set a single mandatory criterion: "At some point in every shot anyone should be able to identify the site of Barcelona that was filmed." If you need some help with that,
click here for a list
.

Sean Lennon and Charlotte Kemp Muhl -- Ghost of a Sabre Tooth Tiger.
Equinox, New Moon and Sean Lennon
In this week's edition of Planet Waves FM
I cover the Libra Equinox, the Libra New Moon and a Libra rock star -- Sean Lennon -- and his Leo collaborator, Charlotte Kemp Muhl. I cover the approach of the Sun to the Jupiter-Uranus-Pluto-Typhon alignment on the cardinal cross -- something that heats up for real over the weekend. My in-studio guest is Mike Amari, one of the truly bright minds behind attracting talent to BSP. (Read my coverage of
BSP on Planet Waves here
.) Meanwhile, Sean is playing this week at
Backstage Studio Productions
here in Kingston, NY. His performance group is called Ghost of a Sabre Tooth Tiger. Planet Waves FM is welcoming him to the neighborhood with an astrological tribute.

Your Monthly Horoscopes -- and our Publishing Schedule Notes
The extended monthly horoscopes for October are published below in this issue.
Inner Space for October
was published Friday, Sept. 20. We published the
Moonshine horoscopes for the Pisces Full Moon
Tuesday, Sept. 16. Moonshine for the Libra New Moon will publish Tuesday, Oct. 1. Please note, we normally publish the extended monthly horoscopes on the first Friday after the Sun has entered a new sign; Inner Space usually publishes the following Tuesday but for now it's substituting for one Friday horoscope a month.
Planet Waves Monthly for October 2013 #968 | By Eric Francis

Aries
(March 20-April 19) -- Others will have little choice but to deal with the fact that you cannot be anyone but yourself. Now, from one point of view, is it really possible ever to be anyone but yourself? Yet we all know how much faking so many people do. You've even done a little yourself every rare once in a while. You can count on opening your mouth and saying exactly what comes to mind, and trusting that the results will sort themselves out. I suggest you notice what you say to whom. Rather than being far flung and out of control, you're being more precise than you may think. It just may take you some time to have respect for your own point of view, especially if you manage to send out some ripples or have a few objections sent your way. Pay attention to who says what; notice who is turned on by your outbursts of authenticity. The one thing that nobody can complain about is that you're getting a lot done. I suggest you engage that fully, and focus an agenda of everything you want to get done for the rest of the year (assuming you're on such a schedule) and set about doing it sooner rather than later. Get a solid start on every project; get your research and your facts together; make progress while there's progress to be made.
Wondering about how astrology is influencing your life now? Eric has prepared a written and recorded reading for you that tells the story. You can get all 12 signs of LISTEN, your 2013 reading, for the special reduced price of only $29.95. LISTEN gives you a detailed reading, available immediately, covering work, relationships, personal growth and creativity.

Taurus
(April 19-May 20) -- You could set free an enormous amount of passion, of creativity, of karma -- perhaps all three. This is less likely to happen following a conscious plan on your part, but is more likely to follow the path of one thing leads to another. Taurus is often described as a reserved sign, and on the surface it may seem to be that way. Yet right below your exterior is an ocean of energy; you know it and so does everyone around you. In some ways it's amazing that you manage to keep yourself contained -- though for the next few weeks, I don't suggest you try too hard. Rather, do what you can to sense where you're experiencing a buildup of energy. Vital force is vital force, though it takes a number of forms, and can be directed many different ways. You might think you're experiencing anger when you're really feeling the drive to connect. You might think you're experiencing fear when you're experiencing desire. If you can pay attention to the content of your feelings below the form they seem to be taking, it'll be easier for you to use your energy productively and avoid a mishap -- such as directing your emotions in a direction that might not be appropriate. You still have the power of choice, and with it the ability to access wisdom -- which will become stronger the more you use it.
Wondering about how astrology is influencing your life now? Eric has prepared a written and recorded reading for you that tells the story. You can get all 12 signs of LISTEN, your 2013 reading, for the special reduced price of only $29.95. LISTEN gives you a detailed reading, available immediately, covering work, relationships, personal growth and creativity.

Gemini
(May 20-June 21) -- Maintain your boundaries, especially at work. You may not be able to mind your own business but it will be helpful if you give the impression that you're doing so. Rather than asking questions, listen to what people say. You're likely to find that people voluntarily tell you everything you need to know. All you'll have to do is assemble the pieces, though be aware that on any matter of real significance, this could take until the second week of November. That's when the forthcoming Mercury retrograde ends. Mercury, as the planet associated with Gemini, has personal relevance to you. Apart from the usual
de rigueur
stuff about making commitments or major purchases, the movements of Mercury are closely related to information coming to the surface of consciousness. Because this Mercury retrograde is in Scorpio, that relates to what is concealed below the surface. The retrograde is about going deeper, though there will be bursts of revelation both around the 21st of this month and the 11th of next month. I suggest, therefore, that you not finalize decisions, plans or even opinions about pending matters until you're fully informed. What is brewing looks important enough to take seriously. This astrology could represent an opportunity, the solution to a problem, or an insight about a health matter. Most notably, it represents the emergence of a currently concealed option you will be happy to have available.
Wondering about how astrology is influencing your life now? Eric has prepared a written and recorded reading for you that tells the story. You can get all 12 signs of LISTEN, your 2013 reading, for the special reduced price of only $29.95. LISTEN gives you a detailed reading, available immediately, covering work, relationships, personal growth and creativity.

Cancer
(June 21-July 22) -- Take advantage of unusual developments in your professional life to stake out new territory. Your chart has been pointing you in the direction of new horizons for a long time. By that I don't mean a change of career but rather the exploration of your talent. I also mean establishing yourself on a new level as a respected member of your profession, and one known and valued for what you do. This is a sensitive phase, and rather than being about guaranteed achievement, it's a time to preserve what you've gained, build on your achievements, and notice the specific opportunities that are available to establish yourself. You may notice some contrast between what you're capable of and what others are capable of -- which is not an invitation to be competitive. Rather, you're at a phase of your work where teaching and learning are emphasized strongly. Stabilize yourself and build your confidence by both working with a mentor and taking one or two people under your wing. The process of developing your own talent will be greatly enhanced by engaging with the skills, ideals and approach to life that others use. Your professional success depends less on your standing out than it does on making yourself an integral part of what you do -- what you might think of as your inner reputation as opposed to your outer one. As you'll see, the two are related.
Wondering about how astrology is influencing your life now? Eric has prepared a written and recorded reading for you that tells the story. You can get all 12 signs of LISTEN, your 2013 reading, for the special reduced price of only $29.95. LISTEN gives you a detailed reading, available immediately, covering work, relationships, personal growth and creativity.

Leo
(July 22-Aug. 23) -- You may think it would be wonderful if you could resolve that tension between dreaming big and wanting a perfect sense of security about the future. At the moment there is plenty of it -- the bigger your vision, the less 'safe' and stable you may feel. Yet much as an electrical battery depends on those two polarities holding a charge, you are depending on this tension. In physics it's called
potential difference
-- with voltage. I suggest you work with the seeming contradiction between the way things are and the way things could be; between having your life be good enough and taking a risk to create something better. Much of this is in the realm of developing ideas that may 'threaten' your old ideas, or the mental patterns of the people around you. This, too, will present you with a form of tension that you can work with as a source of energy. At the same time, you seem to have no shortage of creativity and drive to move your ideas and plans forward. Here is the thing I would caution about: When you shake things up, that can come back to you as self-doubt, and in a weird way, as guilt. I suggest you proceed with the feeling that you're entitled to express yourself as you are called to do, and to work with the formula "improvement is a form of necessary change."
Wondering about how astrology is influencing your life now? Eric has prepared a written and recorded reading for you that tells the story. You can get all 12 signs of LISTEN, your 2013 reading, for the special reduced price of only $29.95. LISTEN gives you a detailed reading, available immediately, covering work, relationships, personal growth and creativity.

Virgo
(Aug. 23-Sep. 22) -- Treat joint finances and 'permanent' commitments with more care than usual. I don't mean hesitancy -- I mean scrutiny. Inaccuracies that slip into the mix, whether intentional (deception) or seemingly unintentional (overlooking details) or careless (skipping over due diligence) will cause problems in the future, so there is an added necessity to proceed with impeccability. With Mars soon to be in your sign that would not normally be an issue, though an opposition to Neptune is saying that your mantra needs to be 'reality check'. Check the facts, investigate your doubts; if everything seems perfect, get another opinion; if you find a problem, solve the problem and then find two others to fix. The heart of the matter, however, is how you handle negotiations with close partners. This is especially true if you don't know they're negotiations. However any time there is an agreement on the table, especially if it involves money, pause, remember that you're actually in a negotiation-commitment process, and then invoke your 'reality check' mantra. You need to take your time discerning the motives of the people around you. Even if your intuition gives you good information, make sure that you back it up with evidence collected from observation over time. When you're dealing with Neptune, which you are at this time in your life, taking careful, dated notes is one of the most useful ways to stay awake.
Wondering about how astrology is influencing your life now? Eric has prepared a written and recorded reading for you that tells the story. You can get all 12 signs of LISTEN, your 2013 reading, for the special reduced price of only $29.95. LISTEN gives you a detailed reading, available immediately, covering work, relationships, personal growth and creativity.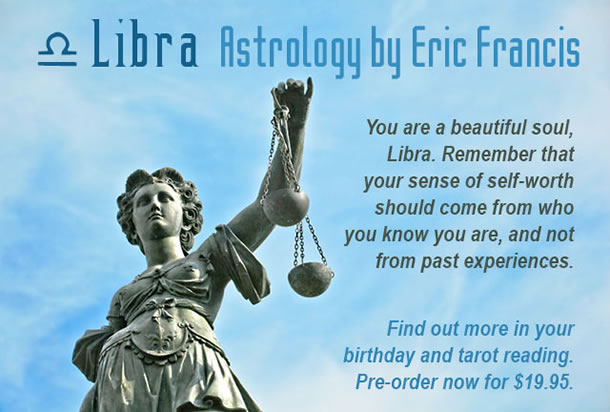 Attention Libras (and those with Libra rising or Moon):
To get the best price on your 2013 birthday reading by Eric Francis, pre-order now here. Pre-ordering gets you $10 off the published price, and we'll email the access info to you as soon as it is ready.

Libra
(Sep. 22-Oct. 23) -- An eclipse in your opposite sign Aries will give you a new perspective on a relationship. It's like a veil will be pulled back allowing you to gaze into the unknown. The underlying reality is different than the one you can see under normal circumstances. You have experienced plenty the past couple of years that you don't fully understand, spread throughout a diversity of situations. They all have something in common, and this is what I suggest you look for when you have those momentary opportunities to peer beyond the facade of existence. What you learn will help you sort out the issue of what you seem to want versus what you seem to get. You will feel better taking even small steps in this direction; I can offer you a clue -- what you (really) want is unlikely to be the standard scenario of a comedy ending in suburban marriage. You have something edgier in mind; something more creative; something with more potential. Along the way, I suggest you evaluate your experiences not on whether they add up to your fantasy but rather how you feel about yourself. Each experience you have with another person has a way of influencing your inner relationship. This has nothing to do with the storyboard of expectations -- it's all about the real chemistry that you share with others, which in turn shapes your life and your experience of living.
Wondering about how astrology is influencing your life now? Eric has prepared a written and recorded reading for you that tells the story. You can get all 12 signs of LISTEN, your 2013 reading, for the special reduced price of only $29.95. LISTEN gives you a detailed reading, available immediately, covering work, relationships, personal growth and creativity.

Scorpio
(Oct. 23-Nov. 22) -- Consider any and every change you've avoided making the past few years. Consider everything that's stuck in your life, the places you experience boredom, and the ways you want to break free. Make some notes on all the promises you made with yourself about what you would be doing by the time you reached your current age. Astrological influences are gathering that may incline you to catch up on everything, all at once. I don't recommend that as a method. Saturn is still in your sign; as much as that is reputed by astrologers to represent something that will not move, in fact Saturn never stops moving, and is your most dependable longterm influence when it comes to making real changes. Saturn's presence is about focusing your energy and directing your passion in a way that's directly integrated with that elusive thing known as logic. If you set out to accomplish a longterm goal, you need to be willing to take the necessary actions on the days that you don't feel like doing it; on the days when that particular goal is not high on your priorities. This is a form of discipline that's not inherent in your emotionally dominated sign -- though I suspect it's a personal goal for you to be able to focus on this. You now have an incentive. I'll remind you in a month, but please don't forget.
Wondering about how astrology is influencing your life now? Eric has prepared a written and recorded reading for you that tells the story. You can get all 12 signs of LISTEN, your 2013 reading, for the special reduced price of only $29.95. LISTEN gives you a detailed reading, available immediately, covering work, relationships, personal growth and creativity.

Sagittarius
(Nov. 22-Dec. 22) -- You seem to be pursuing some recognition or success, which you're associating with money. Is this a valid connection? What if you considered the participation-visibility aspect of your work as one idea, and the business success as another? I know that the two are often conflated -- for example, fame (a form of participation, based on acclaim) is associated with fortune (financial success). They're not the same thing, on any level. Acknowledgement for what you do, and the opportunities that open up, is its own critter. Along with this you may include the integrity you put into your work, the message, and the ways in which you grow as a result of expressing yourself. Success in business is not assured from any of this, nor is it a matter of luck. It's a matter of careful planning, conscious decision-making, a learning process and the careful choice of partners. Looked at this way, it's clear why scrambling up these two kinds of success ladders doesn't work so well. No matter how well-known a person is, no matter how well respected, that does not ensure or even hint at cleverness when it comes to handling money and business arrangements. And, sadly, skill with money is often associated with lack of integrity -- that is not inherently true. Take these two sides of the equation separately and you will make a lot more progress -- of the kind known as maturity.
Wondering about how astrology is influencing your life now? Eric has prepared a written and recorded reading for you that tells the story. You can get all 12 signs of LISTEN, your 2013 reading, for the special reduced price of only $29.95. LISTEN gives you a detailed reading, available immediately, covering work, relationships, personal growth and creativity.

Capricorn
(Dec. 22-Jan. 20) -- It will be a good idea to step back from the festivities, the fuss and the fireworks that develop later in the month and into early November. You're focused on certain specific tasks right now, and you know you're operating within the constraints of time and resources. Your astrology suggests you have enough of both, but not if you squander them on a drama that, in the end, you will discover had nothing to do with you. There are many ways to use the substantial astrology that's rapidly approaching -- astrology that will grant you visibility, the potential to meet new friends, and most of all, that will focus your sense of purpose. Therefore, start with purpose, which is similar to intent, and then rather brutally, evaluate every situation on whether you think it will advance your cause or work against it. As the next few weeks develop, this will be especially true of social situations, in which I would include parties, partying, going out and mindless diversion on the Internet. Alternately, the environment you're in is very well suited for establishing your reputation based on real accomplishments, developing working relationships with people and carving out your special niche in the culture. Some of this is subject to serendipity and synchronicity; none of it is casual or haphazard. The temptation to be popular is more likely to work against you than it is to help. Therefore, keep your focus.
Wondering about how astrology is influencing your life now? Eric has prepared a written and recorded reading for you that tells the story. You can get all 12 signs of LISTEN, your 2013 reading, for the special reduced price of only $29.95. LISTEN gives you a detailed reading, available immediately, covering work, relationships, personal growth and creativity.

Aquarius
(Jan. 20-Feb. 19) -- You may be thinking: is this all some kind of test of character, or of my integrity? I don't know if it's a test, but you may be experiencing the consequences aspect of life more than you're experiencing its promise or potential. They are all related. All consequences are results, and what they are results of is, precisely, some form of potential. This works for 'good' things and for 'bad' things. The law of cause and effect is in action all the time. The difference between a sleeping person and an awake one is consciously using causes (motives, intent, decision) to get an effect (a result of some kind). This implies becoming conscious of all the superstition that is used as a substitute for good, old-fashioned karma. You are moving into a time of increased power of manifestation -- what some astrologers might call success, but I think it's edgier than that. Your choices will get results, though those results are the product of something. You are also living with the effects of what you have created -- and the astrology I'm describing will grant you extra power to make adjustments to what currently exists. This will be especially true if you develop your understanding of how things got to be the way they are. And once you arrive at that understanding, consider it a rough draft and go deeper. Cause and effect are never separate, which is an idea that could save the world.
Wondering about how astrology is influencing your life now? Eric has prepared a written and recorded reading for you that tells the story. You can get all 12 signs of LISTEN, your 2013 reading, for the special reduced price of only $29.95. LISTEN gives you a detailed reading, available immediately, covering work, relationships, personal growth and creativity.

Pisces
(Feb. 19-March 20) -- You would be amazed, if you could see the truth, the extent to which your choices today are based on beliefs that are many years or many generations old -- and which are no longer applicable to the world in which we live. Some of these may masquerade as traditions, respect for the way things are done, morals, ethics and 'fundamental values'. I suggest you put the lot of it up for evaluation. It's impossible to question a belief unless you know you have it, so the first step is knowing what it is you think is true. Then take the next step and evaluate why you think it's true. Question every assumption until it's a habit, which may lead you to reject assuming anything at all. The very most important thing you can question is anything -- anything and everything -- taught to you by your parents. Questioning it does not make it, or them, or you, wrong -- rather, it's that once you start clearing the clutter, you will discover windows and doors, and the light and fresh air they allow into your awareness is known as a vision. I don't mean this as a metaphor, but rather as a direct idea: what has the strongest potential is what you can actually see, and visualize, down to the details. Visualizations might 'come to you' or you might construct them like a draftsman makes a drawing. Either way or both -- have at it.
Wondering about how astrology is influencing your life now? Eric has prepared a written and recorded reading for you that tells the story. You can get all 12 signs of LISTEN, your 2013 reading, for the special reduced price of only $29.95. LISTEN gives you a detailed reading, available immediately, covering work, relationships, personal growth and creativity.
To unsubscribe,
click here
e Wiki
|
Friends
|
Editors
Contact Us
Copyright © 2013 by Planet Waves, Inc. All Rights Reserved. Other copyrights may apply. >>
Some images used under Fair Use or Share Alike attribution.